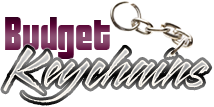 Custom Keychains Happy Customer Stories # 2 – Eye Shape Bottle Opener Keychains
Posted by admin
Posted on April 13, 2018
Happiness is contagious as it gets spread quickly and makes everyone around happy too. We get regular updates and testimonials on our custom products from our happy customers and it is our pleasure to share it with our audience.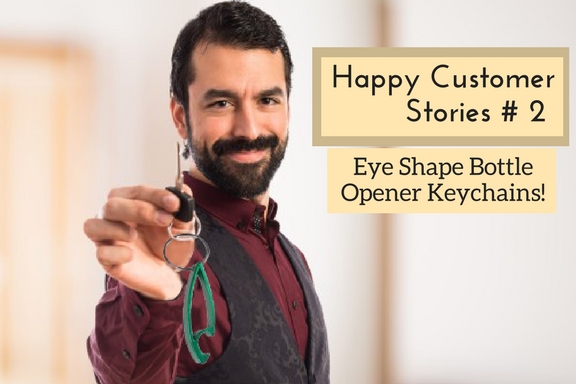 Tony Gesualdo, who owns an optical shop in Riverside, California wanted something unusual or a bit interesting for the product launch event slated for January 2018. His custom gift choices had boiled down to keychains because of the incredible popularity these logo items enjoy.  As these cost effective promo gifts perfectly matched with his budget, he had no two opinions.
As the product launch date was soon after the New Year revelry, he wanted us to choose a custom keychain that is not very plain and preferably with a party vibe to complement the New Year theme of the event. The product experts at Budget Keychains suggested these custom eye shape bottle opener keychains that conveyed his eye glass business message with ease. As these keychains also had a bottle opener for all the happy hours and New Year parties on the cards for his recipients, it made a delightful choice. With a low minimum quantity of just 100, it made a safe bet for him as he was expecting only a modest crowd comprising mostly of his regular clients.
See what Gesualdo has to say
Good customer service and shipping. Questions were answered promptly. I had no problems and everything went smoothly. Thanks.
He wanted his logo and message imprinted on these attractively shaped keychains that didn't look like an ordinary keychain in the first place. He chose red and green colors that matched his corporate colors as well as the festive feel around. These keychains with an elegant metallic finish had a very simple design, which makes it easy for everyone to use these keychains. The attractive design will appeal especially for his young target audience for sure. Every time they use this combo gift to carry their keys or to pop the top of the bottles, your brand and message will get a lot of attention for sure.
His recipients were simply swept off their feet by these high utility custom gifts that exude class and elegance. If you thought the most popular custom gifts are often the most costly handouts, you could be in for a surprise with these modest yet  brilliant gifts that our client picked up for his product launch. We are happy as much as our customers to know that these logo items continue to bring in leads without any repeat effort.
NB:   Tony Gesualdo has placed a repeat order of the same item, which he plans to use it as store promotional gifts for customers who purchase above a specific value.
Share and Enjoy