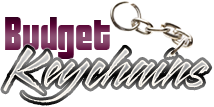 Custom Keychains – Best Handouts To Promote Your Church
Posted by admin
Posted on June 10, 2020
Churches face an existence crisis as less people attend churches and religious congregations these days. With churches being converted into resorts and wedding venues, churches have a bleak future ahead of them.
Marketing is important; however many churches don't have enough budget for advertising. Reports show that 80% of churches spend less than $10,000 a year on advertising. So, low cost promotional items like logo keychains will make an effective way to get across the message.
Churches need to adopt a highly targeted promotion as they should reach out to only those people who may be seriously interested in the church's teaching and message. Custom keychains will fit the bill of a targeted promotion because these can be handed out in person or send as mailer gifts thanks to its light weight and compact size.
Cross shaped keychains provide an effective way to promote your church and they can serve as a form of evangelism and make the recipients feel reassured. We have keychains in different shapes and styles, which your congregation will love.
What kind of products will they find useful? Useful products like keychains that are widely used will never get discarded. By putting your message and church name on it, you are rest assured on a nonstop display 24 x 7.
Script a classic message
Promotional products stand out for its uniqueness. People retain it for years if they find the message imprinted on it motivating and something unique. Get creative to come up with an inspirational and soul stirring message that will inspire them. An interesting message could be seen over and over again. So, make sure not to stop with just your name and website; a deeper message will surely make your handout extra special. Whether it is verses from Scriptures or motivational quote or an artwork that will make people think- No matter how you come up with it, make sure that your message make a strong connection with your audience
Keychains can be used along with other marketing activities and promotions as well. For instance as religious congregation gifts or social media campaign gifts etc. keychains are something that everyone needs to keep their keys safe. The best part is that keychains travel with your recipients wherever they go and your message will earn a lot of eyeballs from people around.  So they will be interested to check out the web site that they saw on these keychains and get more insight on the activities of your church.
You can also create a social media campaign where you can handout logo keychains to your most engaged users to create a buzz.
Contact us for more ideas on other promotional products.
Share and Enjoy