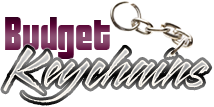 Clever Ways To Use keychains As Promotional Products
Posted by admin
Posted on April 14, 2023
Custom keychains are definitely at the top of the list of promotional giveaways  for many successful companies. That's because keytags  are not only one of the most useful  promotional items but are also environmentally friendly. Reusable and highly functional, keychains can be used for many different purposes. If you want to get the most out of your investment in promotional keychains, you'll need to find clever ways to use them.
Here are a few inspiring ways you can use custom keychains  as promotional products.
As tradeshow handouts
It might be obvious that logo keychains and trade shows go hand-in-hand, thanks to its incredible portability. Easy to distribute for marketers and easier to carry for the attendees, custom keychains indeed offer a win-win solution. Moreover, keychains are something everyone needs. So, they're more likely to get used and have people approach them asking where they got these keytags.  So, customize it with your logo, an interesting artwork or a tagline to make it unique. 
As holiday gifts
Think creatively on different ways to use keychains  during  holidays. For instance, you can deploy it as online contest giveaways  starting with the new year, mailer items during Valentines' Day, Trick or treat items during Halloween and stocking stuffers during Christmas. . Make sure to add a little symbol for each holiday and your message. This will make people remember when they got it even when they use it during the rest of the year.
As employee gifts
Keychains make excellent employee gifts. It is also ideal as stand alone giveaways or can be made a gift item of the welcome gift bag for new employees . Offering  free swag is indeed a great way to promote your brand while also getting them excited about working in your organization. Personalize it with your brand and message to make it special.  You can even consider personalizing the keychains with your logo to turn them into a corporate gift that will enhance loyalty  of the employees.
As mailer items
The great thing about custom keychains  is that they are lightweight and mailer friendly. In addition, it will fit into envelopes and can be sent along with newsletters during  your advertising campaigns. If you include an interesting promotional product like keychain  with a direct mail campaign, the response rate is likely to go up by over 50%.
As  team swag
If you have a sports league, sports themed keychains will make a great team spirit swag. Get it imprinted with your  team anthem, mascot or more to make it one of its type. Moreover, these branded keychains can be sold to fans to raise funds for the team or can even be distributed among the players. Just think of the impressions your brand on it will make during its rather long shelf life.
As fund raising items
Raise funds to support your social cause and spread the word among the donors and volunteers by using logo keychains as fund raising items. As keytags are cheap as chips, marketers can buy in bulk and sell it off at a nominal price to raise funds for the cause. It is definitely an effective way to spread the awareness message and  the donor support alike.
Have a better idea to use custom keychains in your promotions? Share your thoughts with us on our facebook page.