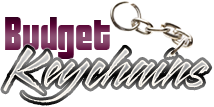 5 Compelling Reasons That Make Custom Keychains Great Promotional Items
Posted by admin
Posted on July 31, 2019
Keychains are not something new in the world of custom gifts. These functional accessories have always been a rage among marketers. Low in cost yet high in popularity, keychains are something nobody can stay away from even in this robotic world.
1.keychains are versatile
Keychains  are popular handouts among every genre of audience and demographics. No matter whether you go to work, to the beach or a party with your friends, keychains will keep your keys safe and well organized.
The beauty of these logo items is their simplicity. Offered in a wide range of attractive designs, custom keychains are available in a wide range of colors and shapes as well. You can match it up with your event theme or audience taste to make it extra special. Keychains never run out of  fashion and are retained for a very long time. Infact, most people won't even change their keychains.
2.Size Does Matter
Keychains are light weight and compact, which makes them great choices as mailer gifts, raffle gifts and store promotional items. Being small and portable, these imprinted items will get carried around by your audience, thereby putting your brand on a wide display.
3.Great Travel Accessories
Keychains are not just everyday items but make great travel accessories. Carabiner keychains that can be attached to backpack straps or belt loops make a great choice among travelers. Another interesting model to consider includes multi tool keychains that will come handy during emergencies or minor repairs while on the move. Your brand and message imprinted on these will get a lot of attention for sure. Having a reliable keychain will ensure peace of mind while you are on a holiday. You won't  be  locked out of home or your car when you have keychains – the  proven way to carry keys!
You can carry your keys safely wherever you go – be it in cities, exotic natural landscapes, museums or in crowded markets. These make stylish accessories as well. Everyone will love to show off a brightly colored keychain that is unique and branded. Not many other people may have it afterall!
4.keychains are Affordable
When the promotional dollars are scarce, marketers need popular handouts that fit within their budget. As affordable accessories, keychains are probably the best choices that exceed your quality vs. value expectations.
5.Raise awareness
Keychains make a great choice when you want to draw attention towards a social cause or to raise funds for nonprofits or a community sports club. No matter whether you want to be an influencer, promoter, advocate or a friend of any movement or organization, keychains make a versatile item that everyone will proudly use.
How has been your experience of using keychains as promotional items? Do share your experience with us on our facebook page.