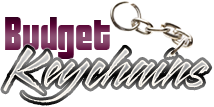 4 Reasons Why Custom Keychains make Unbeatable Trade Show Staples
Posted by admin
Posted on February 18, 2019
Keychains make timeless handouts all over the world and a perfect branding item for marketers. Offered in various styles and price points, keychains will get your message right into the fists of your users- something not many other promotional gifts can do! Keychains hold incredible promotional power to build a buzz and reinforce your image – probably something more than we all thought we knew!
Here are some of the plus points of custom keychains that will put them in the league of powerful promotional gifts.
Keychains offer a great imprint space for you to position your brand and message in the most effective way. Custom keychains even make a great substitute for a business card because your recipients carry these logo items around wherever they go, thereby giving your brand the much needed portability and exposure. Imprint your brand, message or artwork on these logo items to grab easy attention of the audience.
Brand image Reinforcement
Trade show booths with popular freebies will get maximum footfalls. So, pair up your brand with these popular handouts that everyone needs in their daily lives and create a positive experience. Studies show that useful custom gifts will have a better retention and create a positive influence in the minds of the audience. The low cost advantage will make it possible for you to dole not just one but two or more of these gifts for your attendees without breaking your budget. The more custom keychains reach the market more will be your brand exposure.
Keychains say "Thank You"
Imprinted keychains make wonderful hands outs to thank existing customers or referral customers to make them feel special and to inspire them to do more. Keychains have a long retention and most people never replace keychains unless it gets damaged. Your brand and message imprinted on keychains will remain in plain view of not just your primary recipients but a secondary audience that happens to see these attractive keychains in workplaces, on the move, or camping sites.
Keychains create a viral branding effect
Keychains can make your message seen by more people than you envisaged because people often gift surplus keychains to their friends or relatives. It simply means that your message on these will reach a wider audience and travel further away from your locality. Light weight and compact, keychains make a wonderful choice for mailer campaigns and tradeshows that bring together a mixed audience. You can fan out to a massive crowd without having to stretch your promotional budget.
Are you planning to make custom keychains as tradeshow swag in your forthcoming events? Share your thoughts with us at our facebook page to join a discussion.