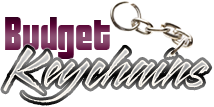 Why are Custom Full Color Keychains Important to Your Brand?
Posted by admin
Posted on March 19, 2014
Custom keychains on a whole evokes mostly positive responses from customers due to their high purpose profile, compact size and form. Do you wish to make your keychains (read efforts) appear more appreciative and adorable than others? Why don't you grab custom full color keychains? You'll find that your choice is producing far more better results that regular black, white or red imprinted keychains that you are used to see.  Full color printing lends authenticity to your brand details and people start thinking that you are one genuine brand raring to serve them! Also, it adds consistency, branding and ability to stand out in the crowd largely commanded by your big budget competitors. By investing in promotional full color keychains your brand can easily stand up against the competition and help you to get closer to the unexplored customer segments.
Full color keychains can easily boost your leads, no matter what your business may be. Today, color advertising plays a very important role in brand building and most professional businesses are reaping benefits from it. People are quicker to kick out something, which is less than full color and they find it bland and unprofessional at the same time.
A customer who expects you to be acknowledging and sensitive to him will get easily attracted to a promotional full color keychain and may think of you as one professional, reliable, and trustworthy brand. However, with one/two color printing the results may be little disappointing and customers may start seeing you as one cheap and tacky marketer trying to fool them.
A first impression is always the best one for any business or individual. If you wish to get your brand logo imprinted on the keychain in the real colors, then it is a good choice to get it done in full colors rather than black and white or other single color print. This is because logos in grayscale or one/two/three color format lack the enthusiasm and liveliness of full color ones. Although brand logos in black and white may look like something familiar, but they may fail to sketch personality of your business. While personally handing out any full color keychains during promotional events, you can easily sense people are far more appreciative and sensible towards your efforts than others.
Last but not least, full color printing is going to save you lots of money! It is no more considered a "royal choice of imprint" unlike yesteryears, when technology was in rudimentary stages. Even if you find those expenses slightly higher, still you'll be able to cover it with long term leads that come by handing it out during promotional events.
You can expect to save on bulk orders of these custom full color keychains by buying it from any reputed online custom keychains store. Free shipping, secured shopping, fast production times, free art set up and free online design proof – are some of the most appreciative reciprocals expected from such websites.