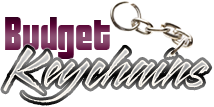 Unlock Your Promotional Potential With Custom Keychains
Posted by admin
Posted on May 25, 2020
Keychains are a fantastic way to show your unique personality and promote your brand image. These ever-popular pocket-sized products are the perfect branding partners for every business. Your logo can be imprinted directly to keychains that are available in a wide variety of materials like metal, plastic, vinyl, leather etc.
Custom keychains are great for infusing a little humor to everyday life. Customize these with your brand, funny quotes, artwork or more to enhance the appeal of these daily items and make it special.  Did you know that Keyrings can hold more than just keys? Check out a wide range of interesting models like tape measure keychains  flashlight keychains and a lot more. It's a smart business opportunity for businesses while the recipients get a value added gift.
Keychains are seldom discarded. People find it a handy way to identify their similar looking keys and will like to flaunt these unique branded keychains that not many people may have. Whether it is to create awareness, popularize your brand or celebrate team spirit, these logo items are perfect picks. The best part is that anything imprinted on these keychains will remain right in plain view of your audience. Highly visible and on the go, a vibrantly colored keychain  customized with your brand and message will grab easy attention of everyone around.
Here are some effective ways to use custom keychains
As fund raising items
Keychains make great fund raising items as these are low in cost and high in utility. People will be excited to support your social cause while they buy these useful items of logo keychains. Choose unique and interesting models like bottle opener keychains. These can be used to pop the top of bottles and carry the keys alike. These make great fund raising items for booster clubs, sports days, biking events and much more. The big plus is that these will remain as memorable souvenirs of the event for a long time even after the keychains outlive its functionality!
Tradeshow swag
Tradeshows make massive platforms for businesses to meet prospects and make leads. Freebies are factors that drive footfalls of tradeshow booths. When you have a huge audience and a modest promotional budget you need popular handouts like keychains to win the promotional game.  It makes a delightful handout to send home the attendees with your message. Keychains make great talking topics. People will take note of these attractive bespoke keychains that they don't get to buy from anywhere else! – while your message reaches a wider audience than you thought.
How do you plan to use custom keychains in your marketing plan? Share your thoughts with us on our facebook page