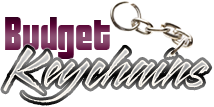 Promotional Keychains- The Fun Way To Spread Your Word
Posted by admin
Posted on February 13, 2019
Though keychains may be over used promotional items among businesses, it continues to be one of the most popular even today because everyone needs keychains to keep their keys safe and well organized. The recipients will find a brightly colored keychain a great way to make their keys more exciting and to add a fun pop of color. Janitors or curators even use keychains as labels to identify their multiple sets of keys. Keychain collection is an interesting hobby for some while it makes lives easier for others. No matter how you wish to use keychains in your daily lives, it is a proven fact that custom keychains make interesting brand building tools and promotional items for businesses.
The best part is that custom keychains can be personalized by imprinting artwork, message or logo to give it a personal twist. Every time your recipients see these imprinted keychains they will be reminded of your brand and message.
In an overwhelmingly competitive business world, your target audience is continually exposed to marketing promotions and only by making your brand stand out, you can ensure higher brand recall among your audience. This is what makes custom keychains a great promotional gift for building up sales and enhance brand awareness. Keychains remain in plain view of your audience, which makes them unbeatable promotional juggernauts. Keychains will make people aware of your brand and remind them every time they make a purchasing decision.
To get the prospects remember your brand name, you should ensure consistent exposure to your brand. Keychains will make it easy for your prospects to remember your brand  by keeping your message and brand in plain view of your audience in a subtle way.
While most conventional advertisements like print and TV ads cannot ensure consistent exposure on a budget, keychains will make your brand right in the eye span of your audience without any repeat investment or effort. Personalized keychains ensure massive exposure for a fraction for the price of print advertising. The best part is that custom keychains are not only seen by your recipient on a daily basis but everyone around. Let's be frank about it! It is literally impossible to resist a well customized, attractive keychain and that makes keychains excellent handouts to stir off word of mouth publicity as well.
Last but not least, keychains are available in a range of styles and designs to cater to your specific promotional theme and ideas. Combo keychains like flashlight keychains or bottle opener keychains make hugely popular custom gifts that not many people can resist. Make sure to choose superior quality keychains to leave a lasting impression among your audience.