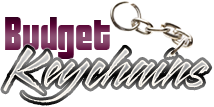 Promotional Keychains-An Effective Way to Stand Out From the Competition
Posted by admin
Posted on October 5, 2021
Ever wondered what makes these ubiquitous and budget friendly handouts like keychains popular promotional merchandise? It is not the cost of the product that matters but the value which is perceived by your recipients.
While anyone can get a keychain, a logo keychain imprinted with a special brand is no less than a reward, and customers love it. What else do you think makes key tag a marketer's favorite tool?
Here are some of the unbeatable features of printed keychains that are worth a closer look.
Great Returns
The shelf life span of custom keychains is incredible. Most people will not even discard it as long as these work. That suggests that your audience will notice your advertisement information every day for a long time. Plus If you purchase imprinted keychains in bulk, it will cost you close to nothing.
Low cost advantage
Keychains are inexpensive, which makes it a perfect choice for mass promotions and mailer campaigns where you need to reach out to a mass audience. Plus, when you purchase and print keychains in bulk, these will be ridiculously cheap and ensure affordable branding and advertising on something that is exceptionally durable.
Choices
 Gone are the days when keychains used to be plain , basic and designed with the sole aim of carrying keys. Today, custom keychains are available in a wide range of models including combo models like bottle opener keychains or flashlight keychains.
If you are looking for something fun, choose floating keychains that are designed to stay afloat even when dropped in water by accident. Being incredibly affordable, printed keychains will help you to choose the best model for your potential consumers while your brand enjoys overwhelmingly decisive results.
USB keychains is a handy  gift choice for employees and clients. Apart from being a safe and sleek way to carry movies, data and  music, these logo items will  be a safe custodian of the important keys of your recipients. Earbud Keychains is another popular choice to consider to impress the tech- forward audience. Apart from being a keychain it includes wired earbuds, a case to keep it organized and a stand.
Options are indeed limitless. If you are getting confused about what to choose as a promotional product for your brand, then let us assure you that a premium custom keychain will never fail you.
Should you need any more tips to choose the right models for your business events, reach out to our team and ensure the ultimate benefits.