Terms and Conditions
Acceptance to the Use of Budgetkeychains.com Terms and Conditions
Your access to and use of Budget Keychains is subject exclusively in adherence to these Terms and Conditions. You will not use this Website for any other purpose which seems unlawful, partial and prohibited by Terms and Conditions. By using this website, you are accepting the terms & conditions and disclaimers covered under this document. If you have any aversion or disagreement to Terms and Conditions you should leave this website immediately and stop using it for any further reasons.
Advice
The Terms and Conditions explained on Budgetkeychains.com do not constitute any advice and should not be referred for making conclusions or arriving at decisions about purchasing from us or buying from other websites.
Change of Use
We reserve the right to
Remove or enrich (temporarily or permanently) the Website or any part of it without prior notice and you should confirm that we hold no liability to inform you about the same.
Upgrade or change these Terms and Conditions at any time and your continued use of this Website will imply your acceptance of such change.
Third Party Website Links
We may include some third party websites for serving examples or representations and these websites are not controlled or maintained by us. We hold no responsibility for such links and they are not endorsement of any kind. You must acknowledge and agree that Budgetkeychains.com holds no responsibility for the content or availability of any such websites.
Copyright
All copyright, intellectual property rights and trademarks on Budgetkeychains.com and its content (including the website design, contextual text, graphics, videos, software and source codes connected with the Website) are owned by or licensed by us.
By accessing this website, you should agree that the content is solely used for doing business with us. You should abstain from using it for any other commercial or unlawful purposes for your personal benefits. This means use of content should be strictly personal, purchase-fueled and non-commercial. You should not download, reproduce, copy, transmit, store or distribute this content without the prior written consent from us. This is not applicable for downloading, copying and/or printing of pages of Budgetkeychain.com for non-commercial home use or personal reference only.
Customer Conduct
We value customer sentiments and appreciate their thoughts, views and suggestions about improving our services and business. We strongly encourage customers to get in touch with us through phone, mail or contact form. We reserve the right to review, edit or discard any information which seems demotivating and hurts the sentiments of our viewers, customers or threatens to destroy the integrity of this website.
We don't strongly condemn our customers from:
Posting offensive and irrelevant comments about our management or our products or services.
Using site to post racial, social or communally irritating content or insulting others through it.
Sending "junk mails", "chain letters" or "spams" on behalf of the management, staff or our third party service providers.
Tampering content on the website.
Disclaimers and Limitation of Liability
The Budgetkeychains.com is provided - AS IS and AS AVAILABLE basis without any representation or endorsement made and without warranty of any kind whether express or implied, including but not limited to the implied warranties of satisfactory quality, fitness for a particular purpose, non-infringement, compatibility, security and accuracy.
To the extent permitted by law, we hold no liability for any indirect or major loss or damage (including loss of opportunity, business, data, profits) arising in connection of usage of this website.
We offer no warranty that the website/software or any other program on this website will remain uninterrupted or error free that defects will be corrected or that the website or the server that makes it available are free of viruses or anything else which may be harmful, destructive or content mentioned in this website are correct, accurate, reliability OR otherwise.
Indemnity
You agree to indemnify and hold Budgetkeychains.com and its employees and agents harmless from and against all liabilities, legal fees, damages, losses, costs and other expenses in relation to any claims or actions brought by or against us arising out of any breach by you of these Terms and Conditions or other liabilities arising out of your use of this website.
Severance
If any of these Terms and Conditions are found to be invalid, illegal or unenforceable for any reason by any court of competent jurisdiction, then such Term or Condition will be severed and the remaining Terms and Conditions shall survive and remain enforceable.
Governing Law
These Terms and Conditions shall be governed by and interpreted in accordance with the laws of North Carolina, United States of America and you hereby submit to the exclusive jurisdiction of judiciary in North Carolina. Any possible evidence of tampering or using this website for illegal purposes will be conveyed to law enforcement authorities. This is the entire agreement between the parties using this website and between us.
Cancellation Policy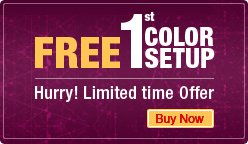 Product & Design Quality -I am very pleased with the design and print quality on the key chains.
Customer Service & Shipping - The proofs were handled promptly and accurately.
Kenney Gulley
Product & Design Quality -this is an amazing product
Customer Service & Shipping - customer service was impeccable and shipping was very fast
Simona Vasu
What if I don't have an artwork?
If you don't have an art work, our team would be happy to help you in creating one from sketch.
Do you offer free shipping?
Yes, we do offer free shipping on selected printed keychains. You can avail free ground shipping to all states within Contiguous USA.